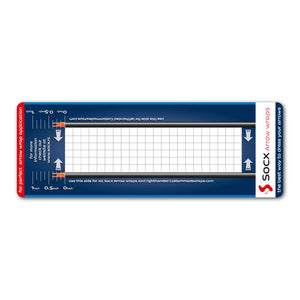 Socx Arrow wraps are "The best way to dress your arrows" and now there is also a best way to apply the wraps to your arrow shafts.
Apply with confidence
The Socx Application pad is a soft textured pad with a rubber base. This flexible base makes it possible to apply the wraps with even pressure, making sure the wraps are applied without trapping air in between the wrap and the shaft.

Easier and straighter
The pad has a printed design which makes is easier then before to align your wraps with the arrow shaft. This makes is possible to apply the wraps straighter then before.

Offset lines
An extra feature to the pad is the offset lines at the nock side of the shaft. This way you can apply your wrap with a certain offset from the nock. And do this exactly the same distance every time again!